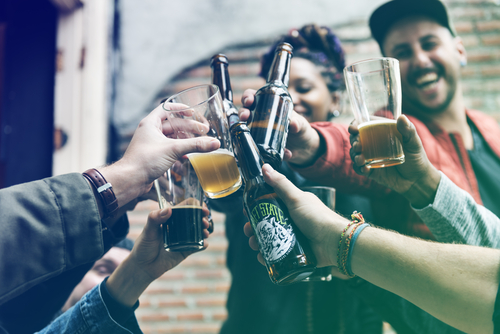 Countries That Have a Legal Drinking Age of 21 and Under

It's universal knowledge that the legal drinking age in the United States is 21. But it's also widely known that many young people, particularly college-aged Americans, tend to drink well before they actually turn 21 years old. But America isn't the only country with a drinking age of 21. In fact, the legal drinking age in many countries is much lower. Let's take a look at the various drinking ages around the globe…
What Countries Have a Drinking Age of 21?
Cambodia
Cameroon
Egypt
Indonesia
Iraq
Kazakhstan
Marshall Islands
Mauritania
Nauru
Oman
Palau
Samoa
Solomon Islands
Sri Lanka
United States
What Countries Have a Drinking Age Under 21?
20 years old
Benin
Iceland
Japan
Paraguay
Thailand
Uzbekistan
18-19 years old
Australia
Argentina
Bangladesh
Belize
Brazil
Bulgaria
Canada
Chile
China
Colombia
Costa Rica
Finland
France
Greece
Hungary
Ireland
Israel
Italy
Jamaica
Jordan
Macedonia
Madagascar
Mexico
Monaco
Norway
Panama
Portugal
Poland
Russia
Spain
Sweden
Turkey
Ukraine
The list goes on and on, as the majority of countries around the world set their minimum drinking age between 18-19 years old.
15-16 years old
Antigua
Austria
Barbados
Belgium
Central African Republic
Chad
Congo
Cuba
Denmark
Germany
Haiti
Switzerland
7 Countries with No Minimum Age Requirement
Burkina Faso
Djibouti
Guinea-Bissau
Timor-Leste
Togo
Vanuatu
Western Sahara
10 Countries That Totally Ban Alcohol
Afghanistan
Brunei
Iran
Kuwait
Libya
Maldives
Saudi Arabia
Somalia
Sudan
Yemen
Does The Drinking Age Affect Behavior?
According to the National Institute on Alcohol Abuse and Alcoholism, adolescents are more likely to binge drink and take risks than adults. Many people think that making the legal drinking age higher doesn't stop teens from drinking. However, research has shown that raising the drinking age in the United States from 18 to 21 has reduced heavy drinking and its associated risks among high school and college students. This has led to an overall reduction in drunk driving accidents since the legal drinking age was raised.