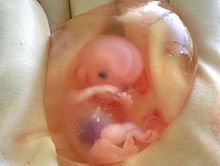 New Arizona Laws and You – Part 7: Medical Measures – SB 1367
Bills Passed in Arizona with Medical Implications
Ready for another round of updated laws? These next couple of entries on the Van Norman Law blog are going to look at two new bills passed that have medical implications, one at the start of life and the other at the end. SB 1367 deals with the cases of live delivery in abortion while SB 1439 handles end-of-life decisions.
SB 1367
SB1367 regulates how doctors must handle a fetus born alive during an abortion operation. This includes having neonatal emergency equipment on hand as well as trained staff in the room for all procedures performed at 20 weeks or later in the course of a pregnancy.
The way Arizona's legal definition of abortion works, this bill also applies to any instance in which a procedure is done to cause an early delivery if the baby is not anticipated to live. This includes mothers induced into labor early because of fatal fetal anomalies or something going awry during the course of the pregnancy
The current law mandates that if a baby is 'delivered alive' during an abortion, then the doctors present must do what they can to maintain the life of the baby. However, that 'delivered alive' does not have a legal definition. SB 1367 provides that legal definition, 'delivered alive,' means to show one or more of the following signs of life: a heartbeat, breathing, umbilical cord pulsation, or movement of voluntary muscles.
The bill has caveats for any fetus with a fatal condition with a life expectancy of fewer than three months. The doctor will need to examine the baby following the birth, confirming the condition, while discussing with the woman prior to the procedure as well what must be done following and confirm that any further treatment will only prolong the act of dying. Once that has been completed the doctor can proceed to comfort care.
Van Norman Law offers legal help for medical malpractice cases! Let us help you today.