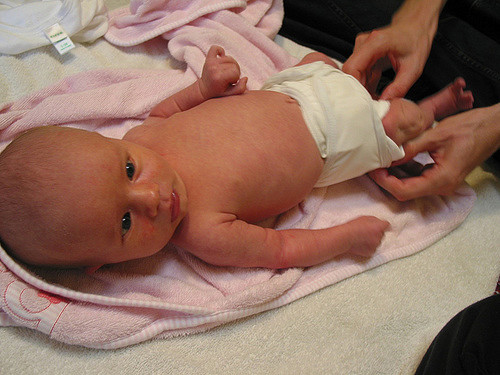 Arizona's Legal Spin on Child Molestation

If you haven't been paying attention to the news lately, some parents have been up in arms about a vote in the Arizona Supreme Court (3-2 decision) to uphold the state's child molestation law. In effect, a new legal interpretation of this current law could condemn parents as criminals for changing their babies' diapers. While this seems extreme and ultimately illogical, the legislature's vague language is what lead to this catastrophe.

Currently, the child molestation law defines sexual contact with a child as having any form of direct or indirect touching, manipulating, or fondling of a child. What's important to note is that unlike other laws with additional clauses and definitions, this law has no further statutes that would include a person's intent to harm, arouse, or violate a child. So basically, any direct or indirect touching – such as changing a diaper – could fall under child molestation.

While some parents are expressing their anger and confusion, Maricopa County Attorney Bill Montgomery has gone public to address these concerns, claiming that the law has been understood rather consistently for over thirty years, and that all throughout his time as an attorney, he has never convicted or accused a parent of child molestation when changing a diaper.

This also raises a lot of concerns for babysitters. While it's always important to ensure that the people you hire to watch your children while you're away are CPR certified and trustable, they could be putting themselves at legal risk by agreeing to watch young children. Even though no one has been negatively affected by this legislative change yet, there may be less babysitters available for hire as people fear the statute's interpretation. Parents would not be able to go out without a babysitter, spending less money at local businesses and restaurants and impacting our economy as a whole.

There may have been positive intentions behind this legislation, but many citizens are concerned with the new law's vaugeness.